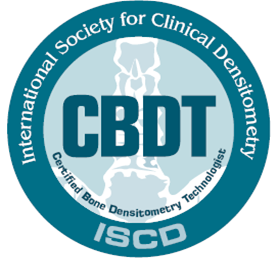 Certified Bone Densitometry Technologist (CBDT®) is a professional certification accredited by the National Commission for Certifying Agencies (NCCA) in the field of bone densitometry for technologists who perform bone densitometry scans. The CBDT® credential signifies that an individual has passed an examination that has been designed to meet established certification industry standards and best practices. The CBDT® Exam is offered at computer-based PSI locations worldwide and paper and pencil at designated ISCD pre-selected sites. The ISCD CBDT® examination consists of multiple-choice questions based on 5 Content Outline domains.
The CBDT® examination will have a total of 150 multiple choice questions, 125 scored and 25 pretest questions. Of the 125 scored questions, 25 will be case-based multiple choice questions. Candidates will have three and a half hours to complete the examination.

Eligibility
Any technologist who performs human bone densitometry scans and meets the eligibility requirements as specified in the CBDT® Handbook & Application.
What you need to know before applying for the exam:
All communication with candidates will be handled via e-mail only.
The name on your application MUST match your ID.
The application MUST be complete with registration fee and a signature from the candidate's supervisor.
The candidate will also be required to read the following statements and agreements in full and digitally sign their agreement to all statements listed within the document.
Once the candidate's application has been reviewed and accepted, candidates will be sent an eligibility confirmation through email from PSI (schedule@goamp.com). After receiving the eligibility confirmation email, the candidate is responsible for contacting PSI to schedule their appointment.
Approval for paper and pencil exams will be sent directly from ISCD.
Examination Results – Candidates will be notified in writing with a pass/fail score within four weeks following the date of the examination. No results will be provided by telephone, fax, or email. Scores are released ONLY to the individual candidate.
apply now